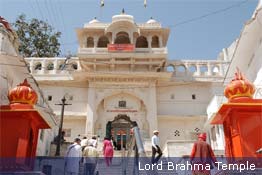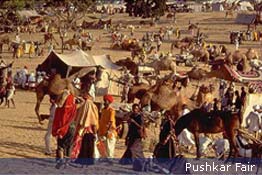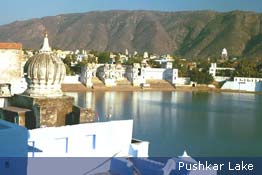 About Pushkar, Rajasthan

Teerth Raj Pushkar, (Head among all Hindu Religious and Pilgrim destinations in India including Badrinath, Jagnnathpuri, Dwarka, Rameshwaram, Banaras etc.) is situated in the centre of Rajasthan, where "Lord Brahma", the creator of universe, performed "Vedic Yagna" before executing creation. This land was chosen where a lotus flower fell down from Brahma's hand. Pushkar is known for the only temple in the world, dedicated to Lord Brahma, more than 500 temples of other Gods and Godesses and the Holy Lake surrounded by 52 bathing ghats, where people take a dip with deep religious faith, without which no pilgrimage is considered complete to achieve salvation.
Every year in the month of "Kartik", (October or November, it depends on lunar calendar), Pushkar Fair takes place from 7th moon and finishes on full moon (Purnima) in celebration of the "Yagna" performed by Jagat Pita (Father of Universe). This annual event is an unforgetable colourful festival when thousands of Cattles, Camels, Horses and other animals are brought here from nereby & far villages for trading during first half and countless people in their colourful attire gathers in second half.
The entire town become alive with the lights, music, folk dance, games, religious activities, animal competitions, rural activities, temporary markets, entertainment & cultural activities etc. Couple of thousand temporary tented accommodation are being pitched to accommodate the people who come from different parts of the world during the Pushkar Fair. It is really once in a life time experience that you would certainly like to repeat.
But Pushkar is not only known for Pushkar Fair, it is a round the year destination for travellers, as many other small religious festivities take place here throughout the year every 10-15 days duration